BLOG POSTS
How Should A Business Monitor Their Online Reputation?
APRIL 7, 2021
By Katie Pray Reputation Management, SEO Off Page Factors, On Page Factors, Reputation Management, Search Engine Optimization, SEO
As a business owner, there are a lot of things to keep track of. Do you have enough inventory? Can you pay your employees? How can you increase your sales? What are people saying about your business? With so many different outlets for people to speak their mind and leave their opinion, it can be a slippery slope. It is great to get your name out there in a positive light, but if people don't have nice things to say about you, that can really hurt the reputation of your business. For some reason, people love to share their negative experiences that they have, but often forget to leave a positive review for a business if they had a good experience. Dissatisfied customers typically tell nine to 15 other people about their experience, while a customer who has a positive experience, on the other hand, is unlikely to leave a good review, UNLESS ASKED!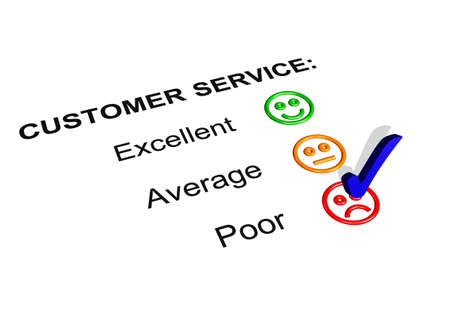 A strong online reputation is imperative for businesses because it can really affect their sales. But how can a business owner possibly keep up with what is being said about them online to make sure they are maintaining a positive reputation online? Our Search Engine Optimization (SEO) and Online Reputation Management platform is the answer to that question.
There is no question that the consumer buying process has changed. These days most people do research online about a product, business, or service before they make the purchase. One of the first things many people do is check for online reviews. The social proof in reviews and star ratings helps consumers shortcut their research and make decisions faster and with greater confidence. Not only do great reviews help give consumers trust in your business, but reviews can also help you rank higher on search engines, with reviews also impacting how a website ranks in the Google Snack Pack and in organic local search results.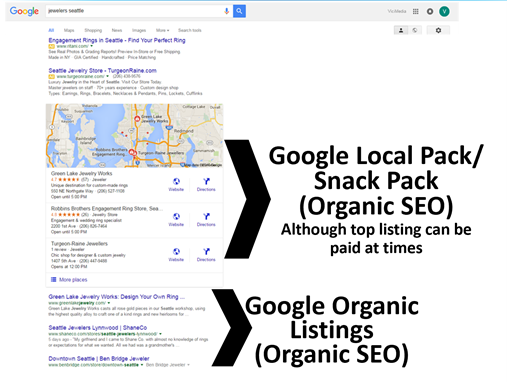 Search Engine Optimization, Online Reputation Management, and reviews are all kind of like dominoes in the sense that one affects the other. If you have good reviews and a good online reputation, you're going to have a better ranking in search traffic. If you have negative reviews, that could decrease your ranking, so you want to make sure you are taking all the necessary steps in order to have the highest ranking on that first page of Google. Ninety-two percent of searchers click on the results they find on page one of Google. Now, I certainly wasn't a math major in college, but it's not hard to do the math on that one and realize that only leaves 8% of the population going past the first page of Google.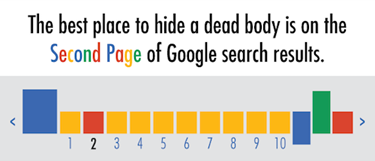 Google looks at over 200 different factors in their algorithm when it comes to where a website ranks, but how is one supposed to keep up with that? There are certain things that a business owner can do to maximize their ranking for free, and then there are other things a business should look at hiring a professional for. One thing a business can do on their own is maximize their Google My Business listing. Google My Business is a free listing dashboard that Google uses to learn about a business, and Google likes to see that it is being optimized. This is a simple tool that a business can use and log into where they can update their hours, upload photos, share posts, etc., to let consumers let know of any changes that might take place.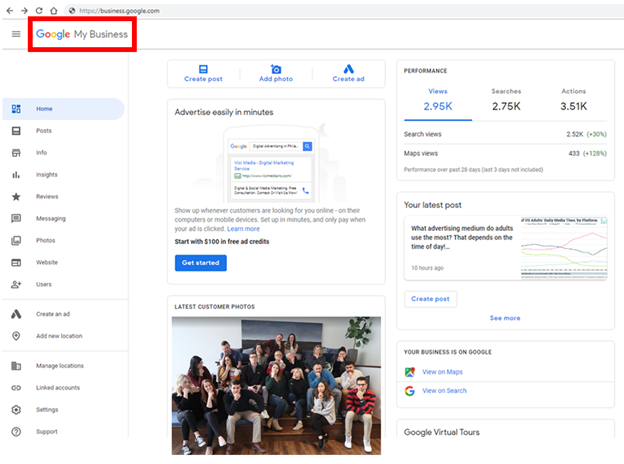 When it comes to the more technical side of things, that's where a business might want to have a professional look at their SEO because again, there are over 200 factors that Google looks at, and they are constantly changing and updating.  If you are looking at a company to help you with Search Engine Optimization you should ask them if they include all of the following optimizations:
On-Page Factors:
Title Tags
Meta Description Tags
ALT Tags
URL Structure
Keywords
Quality and Freshness of Content
Site Maps
Inbound/Outbound Links
Website Loading Speed
Error Messages
Voice Search Optimization
Off-Page Factors:
Submitting to Online Directories
Submitting to Search Engines
Online Reputation Management
One of the off-page factors we're going to dig into a little deeper is the Online Reputation Management tool. This is a platform that consist of monitoring, improving, and maintaining the publicly available information that is listed online about a business, all in one location. With this dashboard, a business can log in and see a plethora of information that is found online. Here is an example of what the "Overview" tab looks like that includes the average review summary, insights, listing summary, top review websites, competition, and any mentions of a business.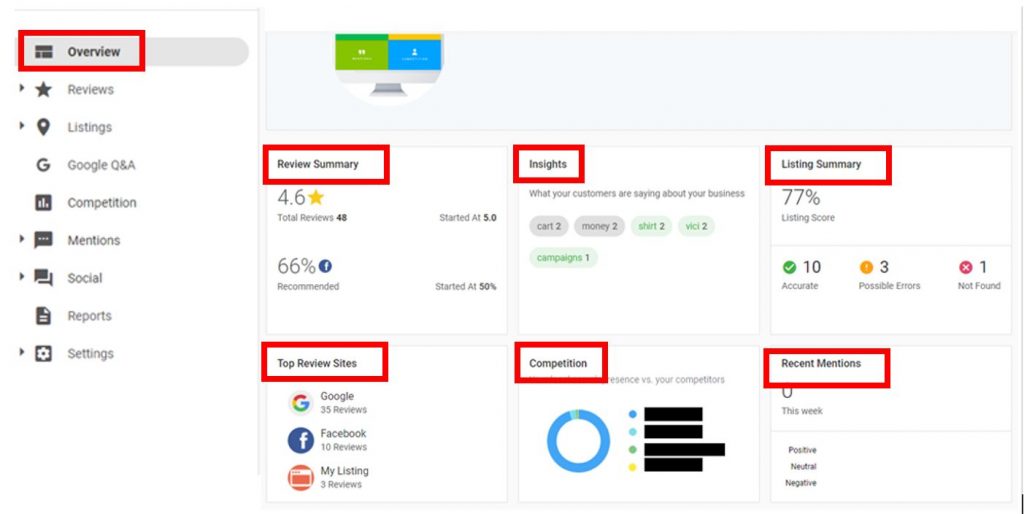 Review Summary- Total reviews and the average those reviews have received
Insights- See what customers are saying about the business
Listing Summary- How many listings are found on the internet and how many have accurate information, possible errors, or no information found
Top Review Sites- What review websites are receiving the highest review activity
Competition- A local search presence versus a competitor
Recent Mentions- Any mentions found about a business
If we dig a little bit deeper into the platform, there is a lot of information that a business can uncover about what is being said and found about their business online. Let's start off and take a look at the "Reviews" tab.   As I mentioned earlier, customers reviews can have a significant impact of a business's reputation since 84% of people trust online reviews as much as a personal recommendation, and 68% form an opinion after reading between one and six online reviews.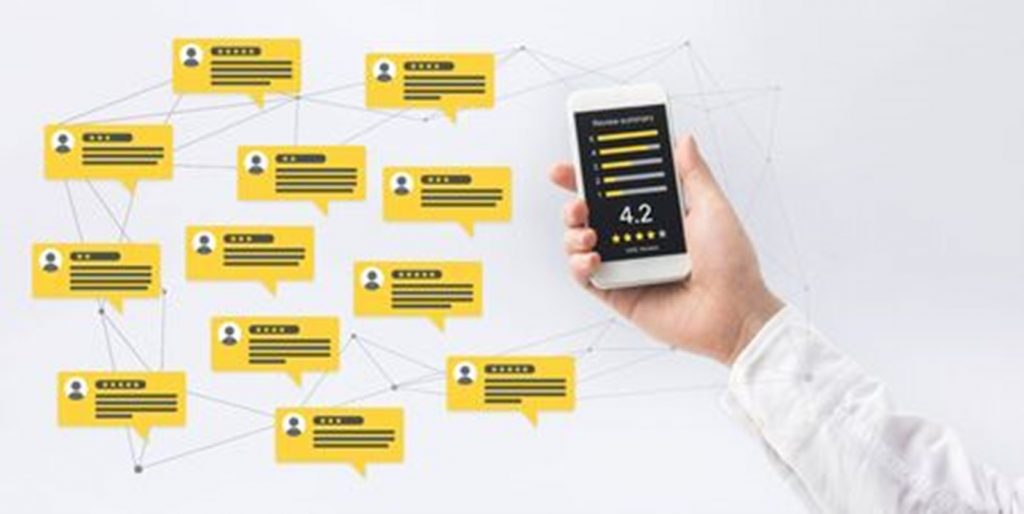 Under the "Reviews" tab, if you open the subtab of "Manage Reviews", here is where the business can log in and monitor various key sources across the Internet, all from one place. Here is where they will see the average aggregate rating of all reviews, along with the total number of reviews. They can also compare themselves to the industry average to make sure they are ranking above the industry average.
The business can analyze the top ten keywords that customers use most often in reviews. This section right here will provide a lot of insight as to what customers are saying about the business. The most important action on this page is going to be responding to reviews, both positive and negative. The nice thing about this platform is that if you're unsure of what to say, the dashboard has review response suggestions to use. These are recommend based on the sentiment of the review, so you'll be confident in your response.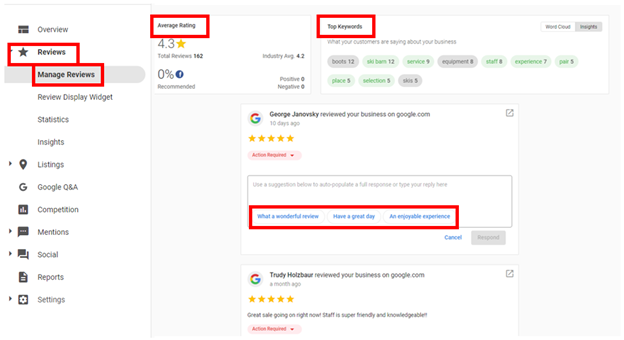 Under the "Statistics" subtab, the business can see their reviews showcased over time and can analyze and see what time periods they were receiving good, bad, or even no reviews at all. If they see a lull in reviews, this is a good time to reach out to customers and ask them to leave a review. Here they can see the average time that takes to respond to reviews, which is important for keeping current customers happy, but it also shows potential customers that the business is responsive. They can see what review websites are garnering the most reviews by checking out the Top Review Sites.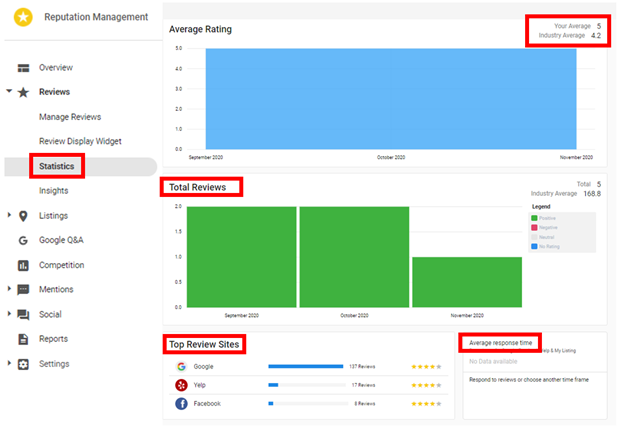 The "Insights" subtab allows the business to dig deep a little bit deeper into their customer reviews. The "trending keywords" are analyzed for sentiment, which means how positively or negatively that word is used in the reviews. For example, the word "boots" is neutral, and if you click on the word, you can then see how many times it has been used in various reviews, and you can even see if it is on an up or down trend in sentiment. Here is where you can see how customers describe that keyword, and when those words are clicked on, you can see all the reviews that mention that keyword. You can use these statistics to see what customers really love about your business, and areas that could use some improvement.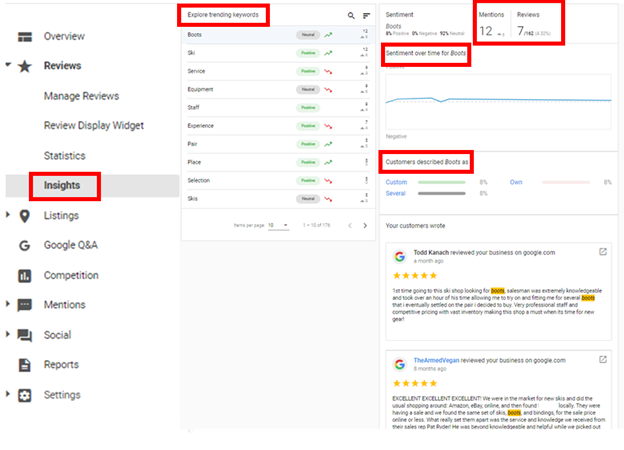 It's important to make sure that a businesses' name, address, and phone number is listed on as many listing sources as possible, but you also want to make sure that data is accurate and consistent. Under the "Listings" tab is the "Primary Listings" subtab, and this is going to analyze key information on search engines, review sites, directories, and social media sites. Under "Listing Score", this is the percentage of directory listings that have correct information about the business. The "Business Information" listed at the top is what is used to match the information that is listed on the various sites, so if the details listed in the "Business Information" section are incorrect, you want to be sure to edit that, so it is displaying the correct information. This is something we work on as well as part of our SEO campaigns – making sure all your information is correct across all the major online directories.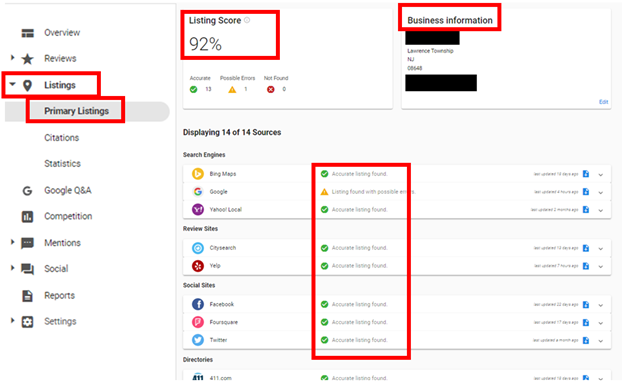 Continuing under the "Listing" tab is the "Citations" subtab. Citations are all of the websites that display the business' phone number and they tend to be smaller, hyper local, and industry specific sites. This platform will pull in lots of interesting information, so if you click on that result, it will bring you to that page where the citation is found.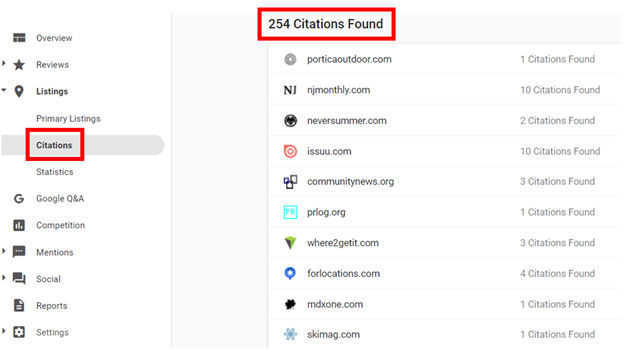 Within the "Statistics" subtab, the business can monitor the listing score of that business and the total number of citations found, and this is good information to have because you see how that business has improved over time.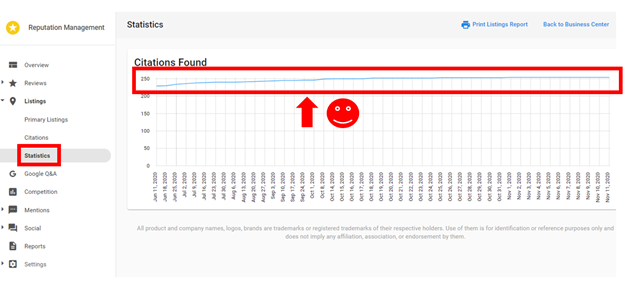 Under the "Google Q&A" subtab, this is where a business can see all the questions and answers that the public has left in the Google My Business Listing info that appears in your Knowledge Graph on the Google search page when someone searches your business name. This is important to monitor because the business wants to make sure the answers to those questions are correct and professional, because anyone is able to answer a question asked within the Knowledge Graph of a listing. The business is alerted each time there is a new question asked, so be sure to utilize that feature so you are the first one to respond. You also want to make sure that there are not any unanswered questions. A good practice is to ask and answer your own questions (sort of like FAQs) so that you're providing new and potential customers with frequently asked questions about your business.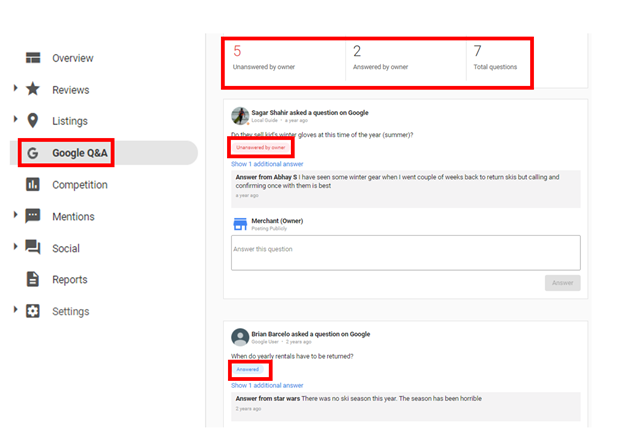 The "Competition" tab is a great place to keep tabs on other companies in the area and industry. Here, the business can monitor their presence on search engines and compare it with competitors. They can also benchmark their social media audience against that of their competitors so that you're able to determine if customers are finding your business online, or if they are finding the competition.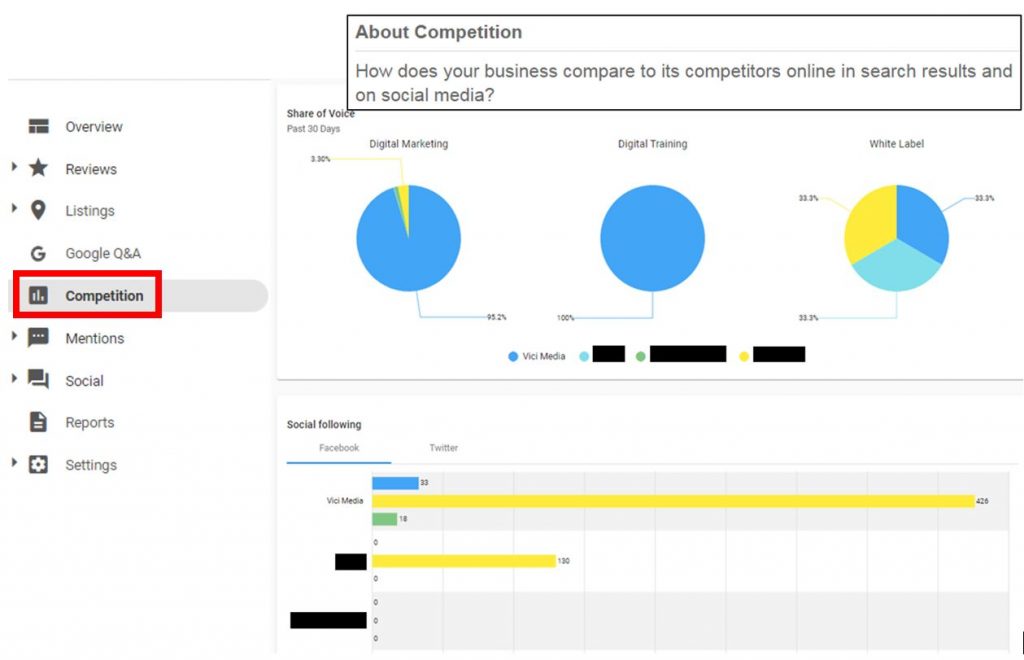 A lot of people like to express their opinions on websites, blogs, news articles, Twitter, Facebook, and Instagram, but as a business owner, wouldn't it be nice to know what they're saying about your business? With the "Mentions" tab, you can discover what people are saying about your business on other sites in order to maintain that positive online reputation.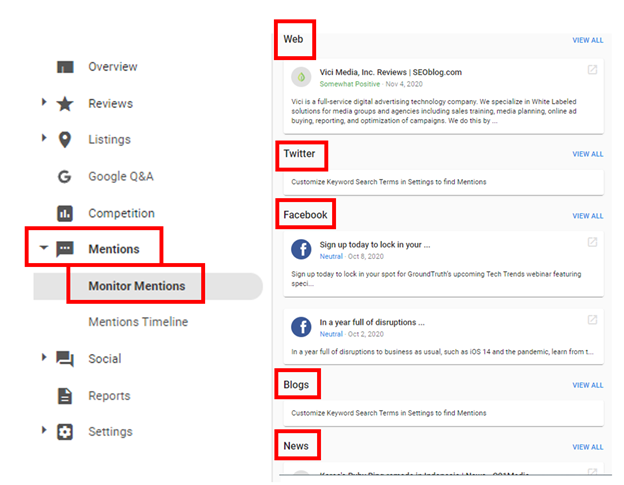 Then under the "Mentions Timeline" subtab, you can see if that particular mention was positive or negative.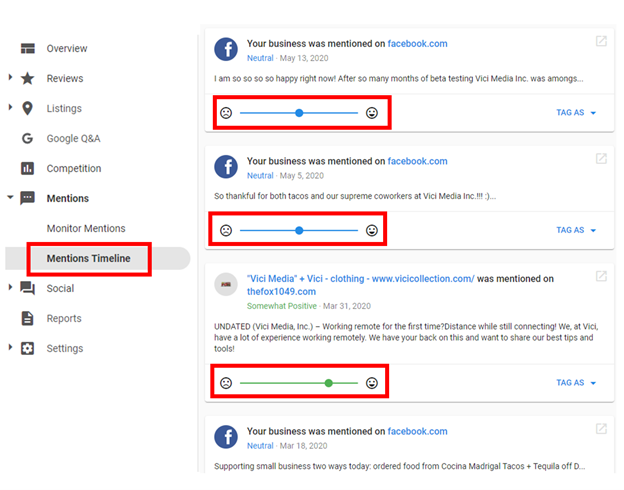 The "Social" tab is where a business can monitor likes, followers, and see all their posts in one place within a specified date range.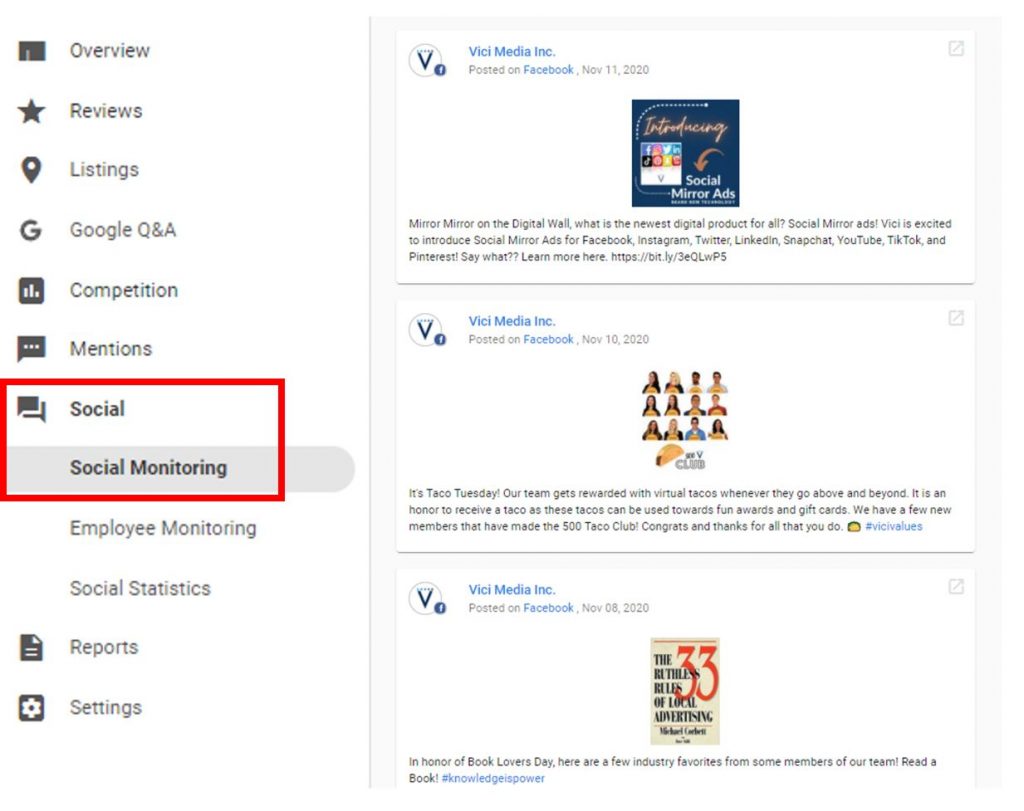 The "Reports" tab is where you can see weekly reports. When you click on a certain week, you will see a recap of everything the dashboard is monitoring including recent reviews, top keywords, the average time to respond to reviews, etc. It's a good idea to refer back to previous reports and compare where you stand today so you can see how you have improved in certain places, and make sure you aren't slipping in others. For example, if you start to see that it is taking longer and longer each week to respond to reviews, that is something you will want to address.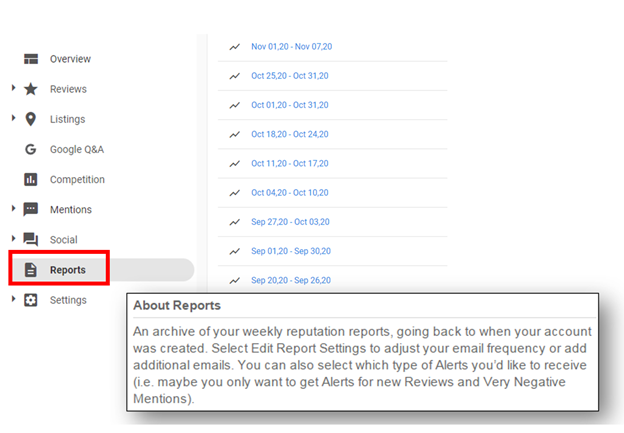 There is no denying that there is a lot that goes into maintaining all the information that is available about a business out there in cyber space. By having one dashboard that can serve as a roadmap and gather all sorts of information in one spot, it makes it that much easier to stay on top of reviews, mentions, and directory listings, which in turn helps in getting your business listed as high up on that Google search page as possible so more people click to go to your website and gather information, and eventually become a customer or a repeat customer.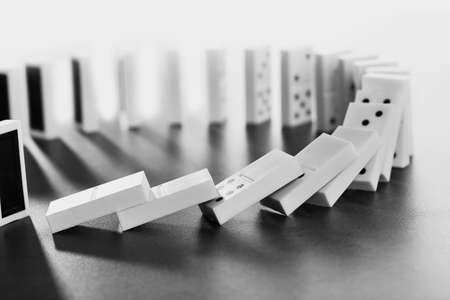 How does Co-Op advertising work with Digital?
By Greg Swiszcz  Digital Marketing March 31, 2021
Can Co-Op be used for Digital Advertising?
Yes. Yes. Yes!
If someone told you that you were ignoring a $42 billion opportunity, wouldn't you want to find out how to get access to that opportunity?
According to Marketing Land total co-op available each year stands at $70 billion.  And, as of right now, only 20% of that is used for digital advertising.  But, with e-commerce players spending 80% of their budget on digital channels, and applying that model to the wider market, this unlocks long-term opportunity.  Closing that gap from 20% to 80% is where that $42 billion comes up for grabs.
Co-Op… let's define it first.  Simply put, Co-Op advertising is when a brand or manufacturer pays for a portion (in some cases all) of an advertising campaign from a local business.  We've seen it for a long time in television and radio advertising, as well as most traditional mediums, including print.  The brand or manufacturer is paying to be featured in a small portion of the ad, or in sometimes have exclusivity in the ad.  There are a lot of terms associated with co-op that you may want to get familiar with.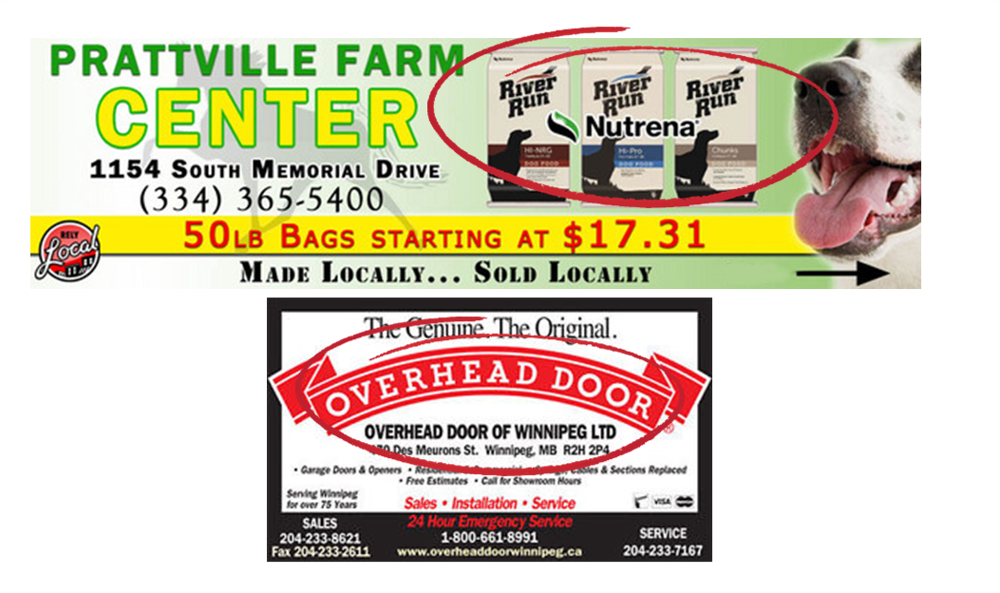 Why use Co-op?
There are many reasons to use co-op, but here are 4 reasons we've found that make the most practical sense:
Retail Budgets – One of the biggest advantages is it grows your marketing budget. If your business has a monthly budget of $2,500 to spend in digital, and a brand/manufacturer will cover 50% of your campaign, you now have a $5,000 budget to spend, giving you more exposure in your marketplace.
In-Kind Promotional Items – This is more of a perk, if you will. Sometimes brands will supply their retailers with promotional items for giveaway.  This is great, especially if you can include it in your creative.
Creative Guidance – Speaking of creative, lots of brands/manufacturers have specific guidelines that need to be followed when promoting them. This isn't a bad thing in most cases.  They've gone through the trial and error as to what works and can support you with the creative, making your life easier.  In fact, often times, they have digital creative already set to go. You just plug and play your info and you're off with your campaign!
Reputation – Partnerships. Aligning yourself with national brands allow you to tap into the raving fans that exist for those brands.  It helps boost your credibility because you carry XYZ products/brands.
Here's what it boils down to… if you have the ability to access it, why wouldn't you take advantage of the money that you earned by purchasing from these brands/manufacturers?
How to use Co-Op
Whether you're advertising for the holidays or promoting your spring products, it's best to understand the process behind Co-Op.
You have to ask! You should check with all of your vendors if they offer co-op.  It's pretty likely they aren't going to chase you down to give you money.  If they do offer it, find out the details behind it.  What advertising mediums are included, how much do they reimburse you for, etc.  Some plans are more complex, so make sure you get all of the details.
Make sure you understand the rules. When you can talk to a live person, do it.  Or speak to someone that can find out for you.  You want to make sure that you follow all the rules terms provided so that you get that reimbursement from the manufacturer.
Get approval. No matter the medium, the advertising can't run unless they approve it.  In most cases, especially with digital, that's just a matter of emailing them the creative that's going to run, and then they'll respond.  Make sure to keep all communication during this process.
Track the campaign and submit for reimbursement. At the end of the campaign, the brand/manufacturer will likely want to see some sort of reporting.  At Vici, we provide that to our partners on behalf of their clients.
Tip: If, as a business owner, you don't feel comfortable with the process or any part of the co-op program, there are many media companies and ad agencies that can walk you through, and help you with this process.
Challenges
Free money for your advertising campaign should be easy to get, right?!  Everyone should be doing this right?  With every opportunity also comes some challenges.  Why everyone isn't cashing in on this opportunity to get their advertising paid for? The Process.  Sometimes there are certain restrictions in place or the amount of paperwork needed is too much for some business owners.  There can be several reasons that keep businesses for cashing in on this dough.
Here are some of the top reasons business owners don't take advantage of co-op opportunities: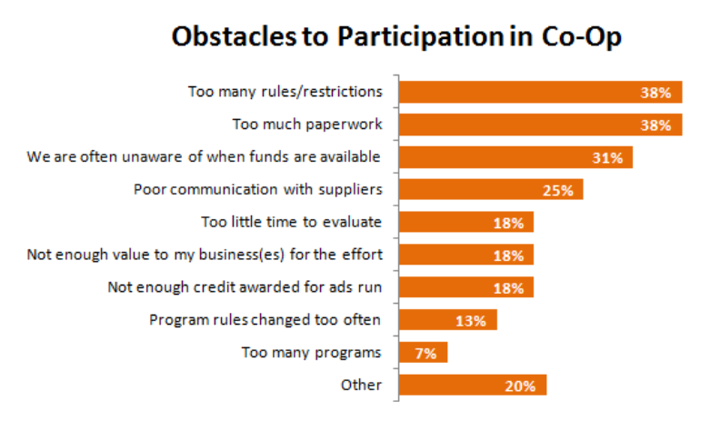 As you can see, all of these obstacles have one thing in common.  Time.  This is not a quick process, though it can be very rewarding.  This is where a local media rep or ad agency can take this off your plate, help you through the process to receive those dollars that are awaiting you.
Best Practices
Remember, you don't have to go from beginner to expert in Co-Op.  In fact, it's likely that will be difficult to do.  However, if you're one of the business owners that decides to cash in on this opportunity, here are a couple best practices to utilize in your process:
Set a goal – this can be as easy as making the decision to move forward with Co-Op. It can also be saying you want to grow your Co-op money for advertising.
Identify a strategy and a process to execute. (we'll talk more about this later)
Find brand partners – this can be done via the relationships you have with your vendors, or through a media group or ad agency. These types of organizations can have access to the co-op opportunities that exist for most of the brands out there.
Test and learn – there will be some brand guidelines that may not work for what you are trying to accomplish. It's ok to talk with multiple brands at a time, and have several co-op plans in place to see what works best for you.
Strategies that utilize Co-Op
When it comes to digital co-op, there are a lot of brands and manufacturers that are just entering the space.  This is a good thing as they see value in putting their brands online.   However, sometimes, you may come up against someone new to online co-op, so their options may be limited.
Display Ads are the most common types of ads that receive Co-Op reimbursement.  The reason for this is because they can be specific sizes, and it's easy for a brand or manufacturer to create a template for all of their dealers/retailers.
Display Ads are the typical banner ads that you see online.  These ads are great for branding purposes and you can usually have a lot of freedom with your designs.  In addition, almost every industry can take advantage of these ads.  Brands and Manufacturers often have guidelines for these and may even have a library of ads you can choose from.
Mobile Conquesting is another strategy that is commonly used for Co-Op, where you can specifically target to mobile devices. With the popularity of smart phones and tablets, it's no wonder brands are wanting to be in this space.  From being able to target competitors with geo-fencing to specifically targeting the physical addresses of your current/past clients through address targeting the availability of opportunities are endless, giving brands the ability to literally be in the hands of potential customers.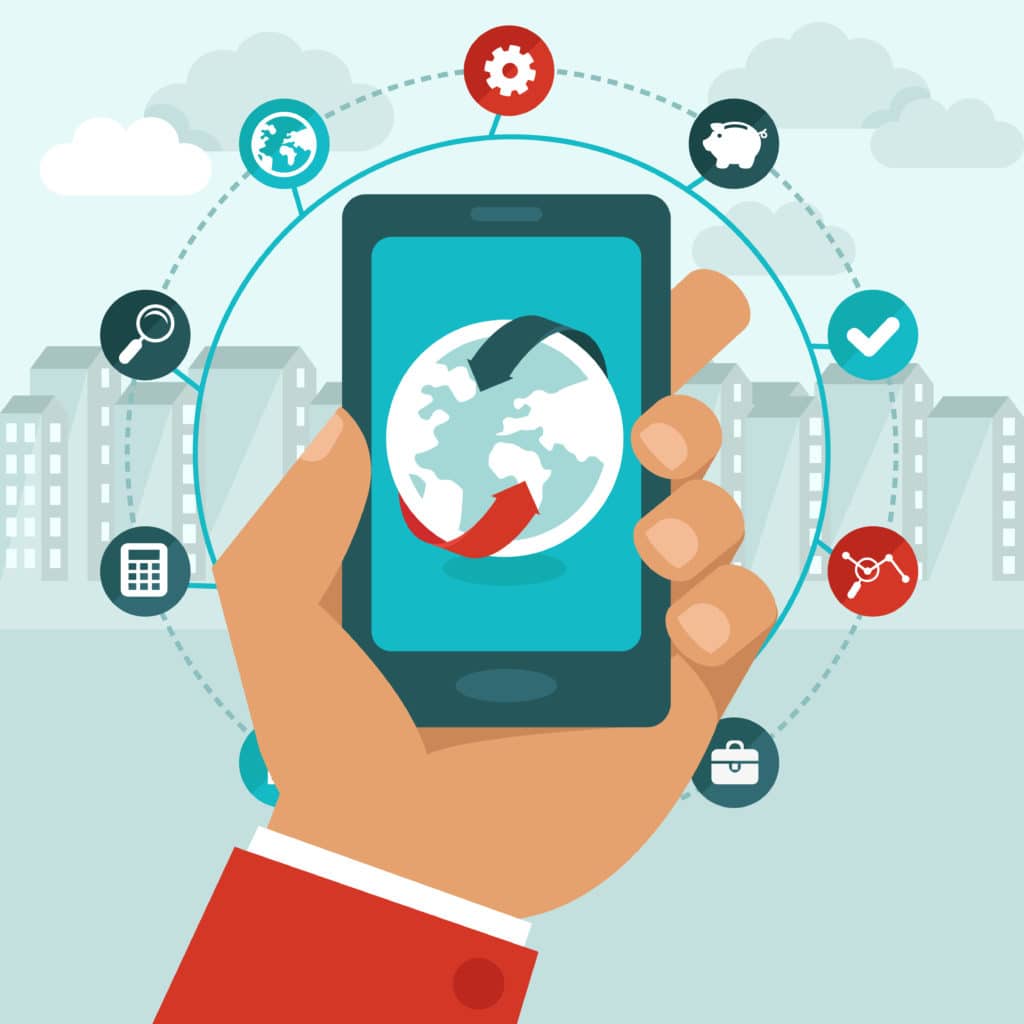 The last strategy to look into is almost anything video.  From OTT, ads shown on streaming servings, to regular video pre-roll, think of digital video ads as TV commercials that can be placed elsewhere.  Imagine someone ramping up their Roku device and going to stream their favorite movie.  During that movie, your ad shows up in a normal commercial break.     Side note: if you're not using video in your advertising mix, you are definitely missing out.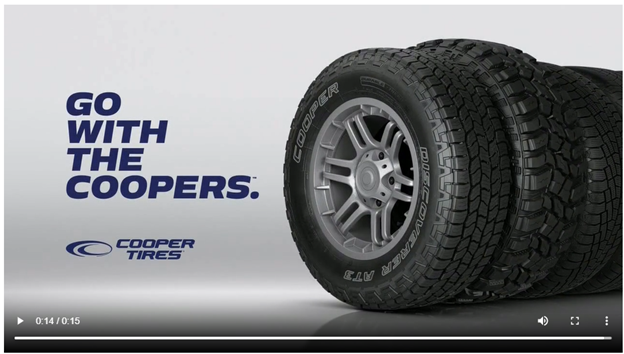 When it comes to digital advertising and Co-Op, there are a few strategies that don't typically get approved.   Native Ads and Social Media Ads.  Native Ads, because their shape, size, and color could change based on where the ad gets served, don't typically get approval for co-op because there's no guarantee that the ad displayed would exactly meet the brand's specifications.   With Social Media, the ability to comment on the ads is what we've seen as the reason they don't get approved.  Brands don't want the ability for people to comment on and ad, good or bad, without having the ability to control the responses.  Also, Pay-per-Click ads are typically not an approved type of digital for Co-Op.
To recap, please take away these few key points when it comes to Co-Op:
Get started. Talk with your vendors about Co-Op. Ask the questions.
Consult a Media Company or an Ad Agency for support with the Co-Op process and opportunities to help you execute.
Grow your business. Utilizing Co-Op is an opportunity to take advantage of lots of money, that you earned, to increase your marketing budget and grow your market share in your industry.
What In The World Are Social Mirror Ads?
Contributor: Allison Gibson, Tech Partner  Social Mirror Social Mirror Ads, social mirror success stories
Social Mirror ads look like your social media display or video posts but appear on other websites and apps, linking back to the social media platform and your website, and run across all devices using our targeting strategies. We are "mirroring" the EXACT look of your social post as an ad that runs on thousands of OTHER websites and apps, targeted just to the people you want to reach across all devices.
Why are Social Mirror ads so popular and effective?  Because how people are spending time online changes constantly. According to Nielsen and Comscore in the US we spend on average 32 hours per month online and it is growing. When looking at how people spend time online at the top of popular activities is a combination of hobbies, searches, researching product or services, health info, directions and the weather, followed by reading news, entertainment and making purchases.
So yeah, people are doing a lot online. We knew this right? But how does it break out on where they spend their time online?
Social Media leads the charge at 22%. The rest of the time is spent doing online searches, reading content like news or related articles and research, emailing and using multi-media platforms like music, video and more. And lastly the rest of time goes towards making purchases. So yes, social is a place we spend time, but a little less than 80% of our time is spent elsewhere. This is why Social Mirror ads have been so successful. We live in and out of social platforms all day long and sometimes don't even realize what app or website or social platform we are even on, because we are like busy bunnies hopping around all the time. Social Mirror ads play really well with this consumer online activity. Social Mirror ads run actually outside of social media.  Social Mirror ads can be done with any organic or paid posts from your business account on these 8 social media platforms: Facebook, Instagram, Twitter, LinkedIn, TikTok, Pinterest, Snapchat, or YouTube.
Targeting options for social mirror ads include:
Behavioral – thousands of targeting categories including demographics, on-line and off-line behaviors, and interests
Keywords – target a list of up to 500 keywords related to your business, and show Native ads on the web pages where they appear
A.I. Targeting – Showing your display or video ads to people across all devices, using machine learning to target consumers based on who is engaging with the ad
Retargeting – Following people after they leave your website and showing them your Social Mirror ad, on other websites and apps they go to, across all devices.
Cross Platform Targeting available from Mobile Conquesting
And these ads work! At Vici, Social Mirror Ad campaigns have proven to outperform other ad types and on average we see a Click-thru Rate 7 times higher than the national average.
They have proven to be beneficial for almost every business vertical. And at Vici, we have several success stories to tout including Automotive, Retail Jewelry, Addiction Treatment Facility and B2B.
AUTOMOTIVE SOCIAL MIRROR STORY – mirroring YouTube
A local Hyundai Dealership utilized several digital marketing strategies to drive people to their dealership for test drives, trade ins, and purchasing a new or used car/SUV.  The dealership was already running a digital campaign that included several different targeting strategies such as Native Display and Video Ads, Social Media,
Mobile Conquesting, OTT, Pre-Roll, and Google Pay-Per-Click ads, and then added in YouTube Social Mirror ads. By doing this, they were able to extend the reach of their targeted audience by targeting consumers that have shown the behavior of "In-Market for Auto Loans", "In-Market for Autos & Vehicles", and "In-Market for Hyundai" by utilizing a :30 video. With the YouTube Social Mirror ads, users could "like" the post, share the post, or click "Shop Now" and be brought to their website in order to browse the new and used car inventory.
Through the YouTube Social Mirror ads, the dealership received 149,857 additional impressions with 1,083 clicks that resulted in a click thru rate of .72%, which is 10X the National average! The YouTube Social Mirror ad campaign was a great additional element to an already diverse digital marketing campaign.
ADDICTION TREATMENT FACILITY SOCIAL MIRROR SUCCESS STORY – mirroring Facebook
A regional Addiction Treatment Center, who turned to digital advertising to generate more leads saw great success and was

loo king for new ways to reach more people who suffer from addiction, especially during COVID-19. The goal was to increase patient lead intake online. Facebook Social Mirroring was recommended to broaden the reach of social audiences outside of their Facebook app. An online campaign was designed and launched utilizing a Social Mirror strategy to engage adults who feel isolated and alone and need help. The call to action was, "I want treatment now" which directed them to a phone # or a click to landing page with comforting messages about positive connections that could connect them with help and encouraged them to fill out a
form or engage in live chat messaging.
The additional impressions that ran for this campaign on social mirroring were 150,806 and resulted in 4,421 clicks with a click-thru rate of 2.93%. This is a remarkable percentage as it is nearly 42x the national average. Plus, the campaign had 163 view thru visits (home page visits)and 11 new patient conversions in the first month of launch.  With a per-patient ROI of $3500, the client was thrilled with the results of this cutting-edge strategy.
B2B SOCIAL MIRROR SUCCESS STORY – mirroring LinkedIn
A marketing solutions agency launched a new online business directory promoting local businesses in dozens of different sectors such as financial, healthcare, education, real estate, travel, tourism, and retail services and restaurants. An online campaign was designed and launched utilizing Social Mirror Ads to promote their newest asset, a small business directory. This "free" open for business directory was a great way to promote local businesses online. The directory of businesses can be searched by zip code or cities. The target was B2B decision-makers in either marketing or research, small business owners, entrepreneurs, or C-suite executives.  The geography being targeted was a list of zip codes that cover a 50-mile radius of the local area.
The Business to Business targeting strategy included a Linked In Social Mirror Ad strategy using the B2B Behavioral Targeting categories listed above.  People who clicked on the LinkedIn icon were directed to the advertiser's LinkedIn page.  People who clicked on the "Learn More" button were directed to a specific landing page created to redirect all traffic that engaged back to the directory so business owners could create their listings.
There were just over 100,000 ads served and 790 clicks on the ads for a click-through rate of 0.79% which is over 11x the national average of 0.07%.  The client was very pleased with the test and the brand awareness created for the new directory.
JEWELRY STORE SOCIAL MIRROR SUCCESS STORY – mirroring Pinterest

A fourth-generation Jewelry store, for over 70 years, promoted the ultimate shopping experience to every customer as they shopped for engagement rings, wedding bands, Swiss watches and fine jewelry. An online campaign was designed and launched utilizing Social Mirror Ads to promote their fine line of estate jewelry; custom-made jewelry capabilities; and engagement rings. Behavioral Targeting categories were selected to target Adults who were "in-market" to buy engagement rings or custom jewelry. The geography being targeted to was a 35-mile radius around their location and they Geo-Fenced three local competitors. Potential customers who went into their competitor stores were served ads that mirrored their most popular Pinterest posts. Online traffic was redirected to a website page where customers could schedule a viewing at the store or explore financing options.
There were just over 150,000 ads served and 2,596 clicks on the ads for a click-through rate of 1.71% which is over 24x the national average of 0.07%. The client was extremely happy with the test and the brand awareness and online engagement created for their store.
The results speak for themselves. Social Mirror ads work hand in hand with consumer behavior and with the great targeting options, can be a great product to sell and include in marketing plans. And by mirroring social media posts and also being on top websites and apps, it will appear to consumers that your clients are EVERYWHERE! And with all the time spent online, being as many places as possible is a good thing!
How Can Auto Dealers Use Advanced Digital Advertising? January 25, 2021
By Katie Pray  Address Targeting, Automotive, behavioral targeting, Digital Marketing, Digital Media, Facebook, Geo-fencing, Geo-targeting, mobile conquesting, Native Ads, OTT/CTV, Retargeting, Videos  Address Retargeting, Address Targeting, Amazon Targeting, artificial intelligence, automotive, behavioral targeting, Custom Audience Matching, Facebook, geo-fencing, geo-retargeting, geo-retargeting lookalike, instagram, keyword targeting, mobile conquesting, On-Site Visit Tracking, online audio, OTT, retargeting, Social Mirror Ads, video ads
Before we go full throttle into all the different ways in which auto dealers can utilize digital ads to drive traffic into their dealerships and increase sales, I couldn't resist throwing in some fun puns to start us off. There is no denying that the automotive vertical is one that is fueling the advertising industry. It seems like no matter what you're doing or where you are, you're hearing and seeing ads from car dealerships and car manufacturers. Watching TV? There is a commercial for Ford; Checking your mail at the end of the day? There's a postcard for a free oil change with any service work from a local dealer; Listening to the radio? You'll hear an ad to come down and check out the lot for certified pre-owned cars.
Let's take a look at some of the more advanced digital products that are a good fit for auto dealers:
The first strategy that is a unique opportunity for auto dealers is taking advantage of Amazon and all that Amazon has to offer. When we talk about placing ads on Amazon, it is actually so much more than that because not only are we reaching people when they are on Amazon.com, but we are also reaching that same user when they are off Amazon, and are on other Amazon owned properties (IMDb.com, IMDB TV, and Fire TV), and the thousands of other websites and apps that Amazon has partnered with (Amazon Publishers). We can show display, video, and/or OTT ads across all these different platforms (Amazon.com is only display ads). Here is the real kicker though; we are using the vast amount of data that Amazon has accumulated about its users and their car interests, to target these folks.
One of the huge benefits for auto dealers, is that Amazon has Amazon Vehicles and Amazon Garage and uses this data to create targeting categories for your ads. Amazon Vehicles is a great spot for users to gather info on cars, check out specs, and read reviews on all types of vehicles, and you can target these consumers both on and off Amazon. Amazon Garage is where customers enter their car model and year to see parts and accessories just for their vehicle, and we can then target to people who own specific makes, models, and year.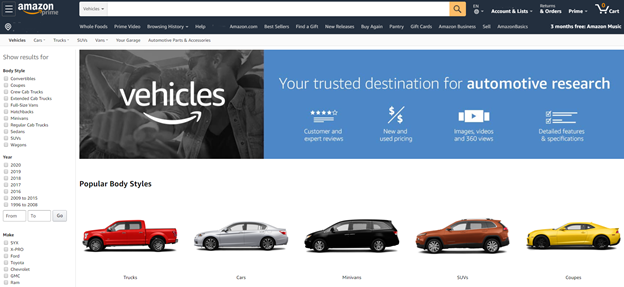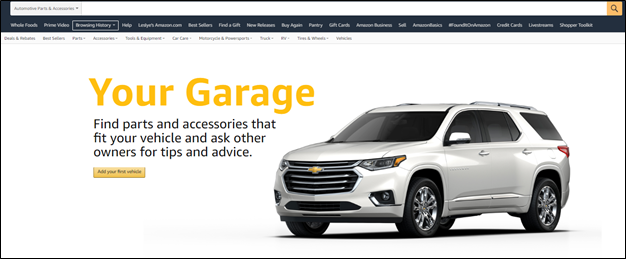 With our Amazon Premium ad offerings, we can many targeting strategies. We can target by Behavior Targeting (as noted above), by Products Targeting which is people who have looked at or browsed on Amazon, by Custom Audience Matching using a data list of email addresses and/or physical addresses the dealership might have, and we can also do Retargeting. An example of how Behavioral Targeting would work is, maybe a dealership is trying to reach people who are in-market for a used Jeep, or a Hybrid car. We can now use certain type of behavioral targeting categories that are gathered through Amazon data and Polk Predictive Data to target those users.

With Product Targeting, we will build an audience of people who have searched for, browsed or purchased specific products on Amazon, and show them a display, video, or OTT ad across Amazon.com (display only), Amazon owned properties and across Amazon Publishers Network. They way this works is the dealership would tell us three products of interest that they want to target, and then we create that audience and show those people ads. For example, we can target people that have searched for, bought, or browsed floor mats, windshield wipers, or auto repair kits.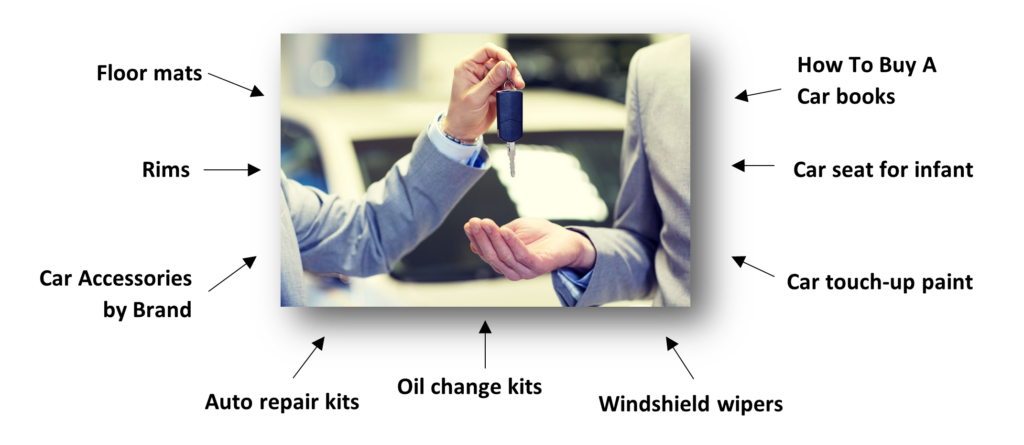 For the last targeting strategy within Amazon Premium, we can do Custom Audience Matching and Lookalike where we can We take a list of customer emails or addresses, match them to Amazon users and show them a display, video, or OTT ads across Amazon.com (display only), Amazon owned properties and across Amazon Publishers Network of websites and apps. With this option, the dealership might choose to target customers based on a list of people that have received service work from that dealership but have never purchased a vehicle there. They could also target people with expiring leases, or previous buyers with equity, or people that have signed up for a test drive, but didn't purchase a car. Something that is available with this particular targeting strategy in order to show the dealership their return on investment is a Match Back Report. With this, the client will be able to see how many people saw their ad and then purchased a car, or signed up for a test drive, etc. This is a great tool because dealerships love to see those metrics!
Social Mirror Ads are one of the newest products that we offer, and they are getting a lot of traction! For most dealerships, they have someone on their staff that is maintaining their Social Media pages and posting content to their Facebook, Instagram, Twitter, YouTube, etc., accounts.  But, Social Mirror Ads are not typically something that they are going to be able to run on their own. With Social Mirror Ads, we can take that Social Media post and mirror the exact look of it, except that ad isn't going to show up on Social Media, it's going to show up on thousands of other websites and apps targeted to the audience they are looking to reach. A great way to know if Social Mirror ads are going to be a good fit for a dealership is to check out their website and see what Social Media icons are listed. Those are great platforms to talk about. We can create Social Mirror ads from a Facebook, Instagram, Twitter, LinkedIn, Pinterest, Snapchat, YouTube, and TikTok posts.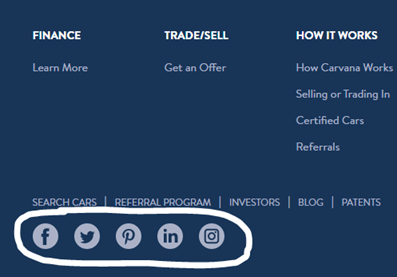 The way these ads are created is we take the URL of that particular post the dealership wants to use, and then we create it into an ad.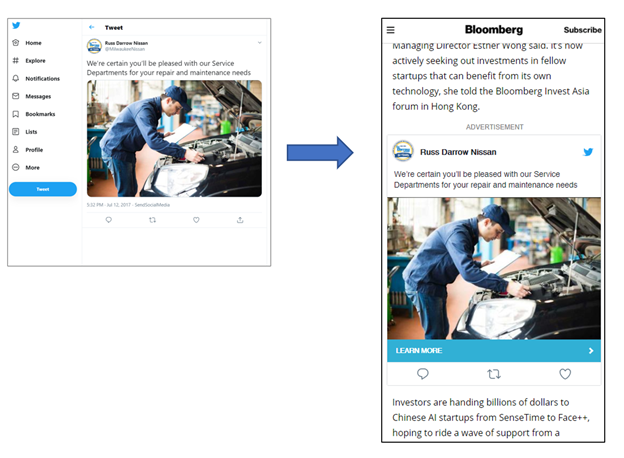 In the example above, I am reading an article on Bloomberg and embedded in this article is what looks to be a Twitter post, but it's actually an ad on Bloomberg.
With these types of ads, there are three different call-to-action opportunities:
Clicking on the call-to-action button will take you to that advertiser's website
Clicking on the Social Media logo or the profile image will take you to Social Media Business Page
Clicking on the Social Media icons will take you to that particular post on that Social Media page
Here is a quick video to show you how a Social Mirror ad would look in action, and where you land when you click on certain parts of the ad:
Video Player
00:00
00:32
When it comes to the various targeting strategies that are available for Social Mirror ads, you can target by Behavioral Targeting, Artificial Intelligence (A.I.), Keyword Targeting, and Retargeting. Some of the categories of consumers that an auto dealer might be interested in showing a Social Mirror to would be:
Auto Buying and Financing
Auto Enthusiasts
BMW
Buick
Cadillac
Car Electronics
Chevrolet
Dodge
Engine & Transmission
Luxury Vehicles (New)
Luxury Vehicles (Used)
Mercedes-Benz
Sedans (New)
Sedans (Used)
Sports Cars (New)
Sports Cars (Used)
Trucks & SUVs
Used Vehicle Seekers
Vans & Minivans (New)
Vans & Minivans (Used)
Another top strategy that we see often with automotive is Native Ads. Nine times out of 10 when it comes to ads, dealerships are running display ads, but I have found that Native is a product that dealerships aren't as familiar with. These ads can be in a display or video format and they match the look, feel, and visual context of whatever website or app they are appearing on, across all devices. Native ads tend to get higher engagement with consumers because they blend in with the content of where they are appearing, and they don't necessarily look like standard ads.
When it comes to buying a car, the sales cycle is going to be a lot longer than if you are buying a pizza. Which means people are going to be doing their research and gathering as much information as possible before they make a purchase decision. Sixty one percent of people are doing that research and are shopping online.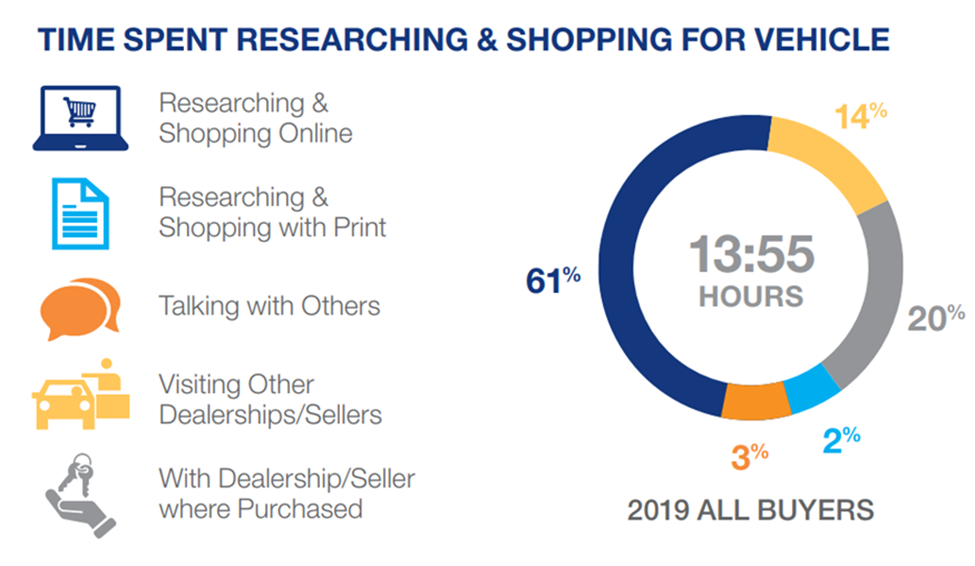 Now because people are doing a lot of research about a certain type of vehicle or a certain brand of vehicle, Native ads are going to be a good option because just like with Social Mirror ads, we can also target by Behaviors, Keywords, A.I., and Retargeting. So, if someone were doing research about SUV's that are good in the snow, they could be putting themselves in the following categories, so they now have the opportunity to start seeing ads from different dealerships or manufacturers:
In Market for New Car
SUVs (new)
SUVs (used)
Subaru
Trucks and SUVs
Wheels and Tires
Vehicle Wheels and Tires
Used Vehicle Seekers
Since that person has being doing research and maybe has looked at "what cars are best in snow", some keywords that dealership could be targeting might be:
Snow
Snow Tires
All Wheel Drive
Vehicles in the Snow
Winter Weather
Winter Driving


If that user now goes to a webpage that contains those keywords, they have the potential to see that Native ad.

The number one product that car dealerships really like is Mobile Conquesting, and that is because not only does Mobile Conquesting have a lot of different ways to target consumers, but there are also some cool bells and whistles that are going to come along with that product. With Mobile Conquesting, we can target by Online and/or Offline Behaviors, we can Geo-Fence and Geo-Retarget locations, and we can also use a list of addresses that the dealership might have, with a strategy called Address Targeting and Address Retargeting.
By targeting through Online and Offline Behaviors, we can reach those that have done their research and have put themselves in various categories like:
Automobile Dealers- New Cars
Automobile Dealers- Used Cars
Automobile Parts
Car Enthusiasts
On top of targeting by behaviors, we can take it a step further with Geo-Fencing & Geo-Retargeting. This is where we take a virtual fence and put it around certain locations, like a competitors' business, and serve ads to anyone that is within that Geo-Fence while they are at the location. If we add on another layer where we are going to continue to serve ads to those people AFTER they leave the Geo-Fence, that is called Geo-Retargeting. Another strategy we could layer on isn't a good fit for every type of business, but it is a great fit for car dealers because it is a great way to stimulate that new car envy with your neighbors, and that's called Geo-Retargeting Lookalike. With this, we are following those people that were Geo-Fenced back to their homes, and now their neighbors are starting to see the ads. Car dealers love this option because if you see a snazzy brand new car in your neighbors' driveway, that might inspire you to start poking around with the idea of also getting a new car.
Another strategy within the Mobile Conquesting umbrella is Address Targeting and Address Retargeting. This is a great option if a dealership has a list of current customers, past customers, or any CRM list that they have generated. For example, maybe they have a list of people who are coming up on their lease. If so, we can take that list and target that individual address and serve ads to people on their mobile devices while they are at that address and then continue to serve them that ad after they leave that address when maybe they go to the store, or the bank, or to work. This allows for the dealership to really drive home the message they want to deliver to a very specific audience.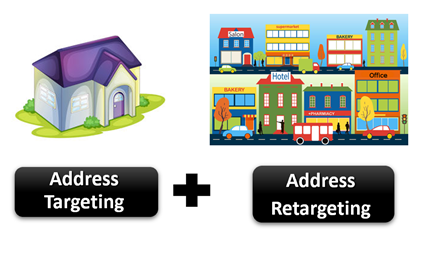 One other option that is available under the Mobile Conquesting umbrella is Cross Platform Targeting. What this option is going to allow for is people being able to see that same dealership's ad on any other devices that they use, not just their mobile device. That means that if someone is served a Carvana ad on their phone and then later goes onto Facebook on their desktop, they can see that Carvana ad on Facebook while using their desktop because of Cross Platform Targeting. The types of ads that we can use for this option are Display ads, Native Display Ads, Facebook and Instagram, Social Mirror Ads, and Video Pre-Roll Ads. By adding in this option, that is going to help accelerate the conversions that dealership receives because typically consumers aren't doing comparison shopping or filling out lengthy forms for credit approvals on a mobile device, and they instead do that on a larger device, which is exactly what Cross Platform Targeting will deliver. People are doing research on multiple devices with the main device being a desktop or a laptop, so by adding in the Cross Platform Targeting option, you can reach that same user on multiple devices.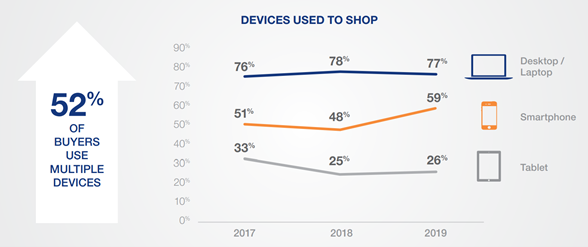 Now I mentioned earlier that Mobile Conquesting also has a few bells and whistles that come along with it, and one of those is that we can track on-site visits. Dealerships love this because they want to be able to see their return on investment. With on-site visit tracking, we can show the dealership how many people saw their ad and then came to their location within 2 weeks of seeing that ad, which is a very powerful metric. Another great option with these ads that car dealers like is that we can dynamically insert how far that user is away from the dealership. That could be a determining factor when people are looking to buy a car because maybe they don't want to travel too far so with this option, the ad would display how far away that user is from that dealership.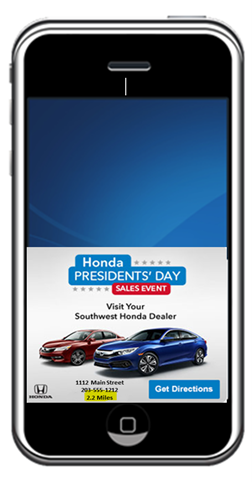 Running Video Ads is another great strategy for auto dealers to utilize because consumers like videos! Video ads are more captivating than text ads with 80% of viewers recalling a video they've seen in the last 30 days, which is the highest of any type of digital advertising. There are a lot of different ways to use video ads such as Video Pre-Roll and Over the Top (OTT). With Video Pre-Roll ads, these the ads that appear before you are able to watch the content you originally clicked on to watch. The strategies used to target with this type of video ads are Behavioral Targeting, A.I., Keyword Targeting, and Retargeting.
Most car dealers are already advertising on local TV networks and stations, but if they aren't doing OTT, they are missing out on a huge audience that is part of the "cord cutters" and "cord nevers" generation. If these consumers don't have a cable or broadcast subscription, how is that auto dealer going to reach them with their video ads? By adding in OTT and/or Video Pre-Roll, they are now reaching that audience of almost 50 million that do not watch regular cable or broadcast TV. OTT ads appear within the programing that someone is streaming through the Internet, and the targeting strategies that will accompany OTT are Behavioral Targeting and A.I..
Facebook and Instagram are another great tool for auto dealers and they might be doing it in-house, or maybe they aren't, but there is a whole lot more to Facebook and Instagram besides just posting to that auto dealers page or boosting posts. For example, with Facebook and Instagram, there are more platforms they can utilize to showcase their ads on, besides just the News Feed. Ads can also be displayed within Facebook Messenger, Instant Articles, Facebook Audience Network, Marketplace, and Stories (also available for Instagram). The other nice thing about Facebook and Instagram is that you can run different types of ads and show off various products. Maybe a dealership wants to showcase all their new cars, or their used cars, or a combination of trucks and SUVs; they can do that with Facebook and Instagram Carousel Ads or Collections Ads. Another option within Facebook is to run Lead Ads or Offer Ads. With Lead Ads, this allows for the dealership to capture lead information of their choice in order to follow up with them. With Offer Ads, this is a great way to offer incentives to people, which can be used as another metric to show the return on investment.
Facebook and Instagram offer a couple different ways in which to target users; Behavioral Targeting and Custom Audience Matching. With Facebook Custom Audience, we can take a list of phone numbers or email address or first name, last name, zip codes, and upload that to Facebook/Instagram and find those people when they are on Facebook/Instagram and serve just that group of people those ads. This is a great strategy to utilize if a dealer has some sort of customer list they want to reach out to.

The last strategy we will talk about is Online Audio ads. The irony of this is that I am writing this blog while listening to music on my laptop through Spotify, and I just heard an ad for Taco Bell's Nacho Fries, and now I want Nacho Fries. Online Audio ads are audio ads that are served to targeted online listeners who are consuming audio content across all types of devices, including Smart Speakers. This is a great strategy because you can reach people while they're listening to music, podcasts, or sport events on their desktops, laptops, mobile devices, and Smart Speakers like Alexa, Google Home, and Sonos, etc.. Just like with OTT, we are going to pair Behavioral Targeting and A.I. together to reach users when they are online, engaging, and tuning in to different audio platforms like Spotify, iHeart, and SoundCloud. This is a great product to add in if a dealership is doing traditional radio, because we can take that same :15 or :30 ad and target it towards specific listeners. Growth in Smart Speaker ownership is a result of multiple devices in households. In 2020, Smart Speaker households owned an average of 2.2 of the devices, up from an average of 1.7 just two years ago.
There are a lot of different ways out there for the automotive industry to get their name and message out to current customers and potential customers, so the next time you see a TV ad, or hear one on the radio, or get that postcard in the mail, think about all the different ways they could be targeting their exact audience through digital advertising, and tell them Johnny Lawrence sent you.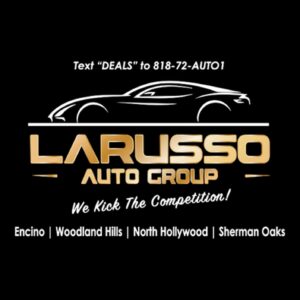 Related Posts